Now available!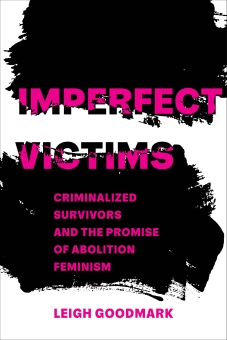 "Be prepared to get angry.

Through a blend of shocking stories and even more outrageous statistics, Goodmark challenges and complicates our country's dominant narratives about violence and safety. The main lesson of Imperfect Victims is not that police and prisons keep us safe from gender-based violence, but the opposite--that the legal system not only continually fails--but further punishes--survivors of gender-based violence. Goodmark challenges us to rethink long-ingrained notions of violence, safety, healing and punishment and to work towards creating the world we want to see."--Victoria Law, author of Resistance Behind Bars: The Struggles of Incarcerated Women and "Prisons Make Us Safer" & 20 Other Myths About Mass Incarceration

"In Imperfect Victims: Criminalized Survivors and the Promise of Abolition Feminism Leigh Goodmark puts forth a galvanizing call to jettison the current American criminal legal system as a response to domestic violence. Goodmark's decades of work representing victims of domestic violence inform this thorough and heartbreaking study of the myriad ways that our legal system fails survivors of intimate partner violence; she shows how innovative abolitionist approaches to intervening in violence and repairing harm are not only possible, but the essential way forward. The devastating stories and structural flaws documented in Imperfect Victims: Criminalized Survivors and the Promise of Abolition Feminism demand that we do better for survivors of violence, and the book boldly points the way toward a response that always puts care first." --Piper Kerman, author of Orange is the New Black

"With great passion and humility, Goodmark brings the dedication to freedom and commitment to justice that we have come to expect from her in this latest book about the tyranny of gender based violence and mass criminalization. In Imperfect Victims, the words on the page come alive in the telling of the stories of criminalized survivors, surrounded by Goodmark's compelling analysis of how the legal system harms them. Legal scholars, social scientists, policy makers, anti-violence workers, and activists reading this book will be moved to act in the direction of abolition feminism and away from dangerous reform work. The anti-violence movement desperately needs to embrace more radical actions at this time, and this book will help pave the way towards liberation." --Beth E. Richie, author of Arrested Justice: Black Women, Violence, and America's Prison Nation and co-author of Abolition. Feminism. Now.

"An essential read for anyone who wants a deeper understanding of the concept of abolition feminism and supports the rights of all survivors of domestic violence." --Jennifer Moore, Library Journal (starred review).

"Goodmark buttresses her call for an abolition feminism opposed to the carceral systsem with harrowing case studies and hard data. This provocation hits the mark." --Publishers Weekly
Available now from Oxford University Press!